Andy Dickinson, writer and founder of Stolen Elephant Theatre, along with Enrique Muñoz, actor, director, and designer, will be at the Edinburgh Fringe Festival, presenting the play 'Shackleton's Stowaway' (From 3rd to 25th August 2018).
'When disaster strikes and all hope is gone, you get down on your knees and pray for Shackleton.'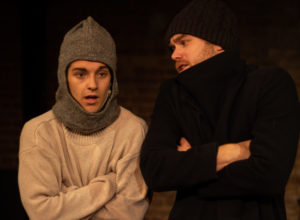 Stolen Elephant Theatre are making their Edinburgh Festival Fringe Debut with Shackleton's Stowaway, a brand new production based on the real events of the legendary Endurance expedition to Antarctica. It follows the misfortunes of an 18 year old stowaway who sneaks aboard Endurance. Initially, the stowaway is in complete awe of Shackleton. But this fades by the time Shackleton has gotten them trapped in the polar ice pack – even more so when Endurance actually breaks up and sinks. This leaves them adrift on the ice, hundreds of miles from civilisation. But in the words of Raymond Priestley, 'for scientific discovery give me Scott; for speed and efficiency of travel give me Amundsen; but when disaster strikes and all hope is gone, get down on your knees and pray for Shackleton.'
The first debut of the work was on July 14 where it premiered at the Cervantes Theater in London, which was a great opportunity to be able to rediscover the most human part of the heroes of our History that are so often portrayed by stories romantics as people without fear, without pain and without doubts.
The scenic tension of the work is maintained in the continuous vacillations that the young stowaway shows Shackleton. What could be a nice metaphor of the multiple indecisions that a person like Shackleton could be living in the first person, facing a feat of unexpected dimensions and in charge of a crew that relies on him as a leader and as personalization of an ideal dream.
Shackleton's Stowaway is written by Andy Dickinson (A Flame in Hero's Tower), who founded Stolen Elephant Theatre while working as a producer in London. Dickinson has produced for the multi-award-winning Tangram Theatre Company and for Olivier Award-winning playwrights Grae Cleugh and Jack Shepherd. Joining the team to direct is Enrique Munoz, who studied at La Lavanderia and has worked extensively in Spain and Italy as an actor, director and designer. The show will feature Carl Thompson (A Winter's Tale and The Odyssey, both Fourth Monkey Theatre) and Craig Poole (member of the National Youth Theatre of Great Britain who has appeared in The Beaux Stratagem and A Christmas Carol with Imagine Theatre). Shackleton's Stowaway was inspired by Dickinson's interest in polar exploration and will preview in London, before moving to Edinburgh for a full length run at the Edinburgh Fringe Festival.
---
info:
Venue: theSpace @ Surgeon's Hall Dates: 3–25 August 2018
Time: 21:10 (0hr50)
Ticket prices: £9/10 / concessions £7/8