AURIC (Songs From A Golden Age) is a Gig Theatre Show based on poetry from the Spanish Golden Age period, translated and adapted to English by Paula Rodriguez. The texts have been reinvented from a modern socio-political perspective, as an experience that merges spoken-word and experimental music – composed by Arthur Astier.
Freedom, identity, power and other timeless questions revisited through classical poetry and music.
Spanish Golden Age authors such as Miguel de Cervantes, Calderón de la Barca, and Lope de Vega created universal masterpieces that still resonate strongly in the present day. These authors were the rock stars of their time, free spirits who portrayed an eternal landscape of mankind's lights and shadows. In AURIC, experimental music (inspired by blues, indie-rock, flamenco or trance) merges with this classical legacy, to create a truly evocative journey reflecting on poignant political, social and intimate themes.
Paula Rodriguez, AURIC's creator, is a Spanish Actress and Theatre-Maker based in London. Her work focuses on translating, adapting and staging classical plays for contemporary and international audiences. The current landscape is particularly challenging for Theatre and Live Performance, which is why Paula is exploring a new formats with this project. The piece has been presented Live in person, Live-streamed, pre-recorded in HD. The AURIC VIRTUAL PERFORMANCE can be found now (until 27.06.2021) at Brighton Fringe Festival.
AURIC comes also in the shape of a book and an album, both available to purchase online. AURIC THE BOOK contains a compilation of the original Spanish Golden Age texts (which inspired the adaptation) and Paula's modern adaptations, which are accompanied by beautiful illustrations from artist Maya Goldstein. AURIC THE ALBUM is a studio recorded version of the eight original tracks in live performance. Additionally, the documentary AURIC (Songs from a Golden Age) A LIVE STORY is available on AURIC's YouTube Channel and talks about rehearsing and performing live during 2020.
"AURIC, is a response to the need I have of revitalizing my own heritage in the world and context in which I live now. My experience as a Spanish Actor and Theatre-Maker working with Shakespeare in the UK gives me a privileged perspective to explore how Golden Age and Elizabethan Theatre could merge. During the Renaissance period, the connection between Spain and England was very strong, and whether at war or at peace, both empires understood the world in a similar light. The parallels between Shakespeare and the Spanish Golden Age authors are tangible, therefore using Shakespeare as a reference has allowed me to find great fluidity when translating the Spanish classical verse into English.
I have selected extracts from plays by Cervantes, Calderón de la Barca and Lope de Vega. These texts reflect on poignant topics, such as the lack of transparency from those who are in power and our increasing need to feel freedom within an oppressive system. But politics are not the only matter, as these materials reflect on eternal themes including identity, gender and love, which are intensely present in Lope's poems.
My main objective in this project is to introduce these texts to an international audience who might not be familiar with them. I have therefore created a performance in which the universal power of music mixes with the echoes of classical words in translation. Verse is rhythm, these texts are a score, we have taken it just an inch further allowing contemporary music to expand the possibilities of and embellish upon each poem, each monologue. From Don Quixote to Segismundo, we give a new voice to these characters, knowing that their worries, longings and dreams are not far from ours.
Exploring this project through the digital medium has opened a wider landscape of possibilities to my work, not only with this specific piece but in general. I am amazed at the possibilities that virtuality offers us as artists. Obviously, loosing the in person experience is just not an option but I wonder if we could create a more direct conversation between live events in venues and online content. Having access to art from your screen opens an endless source of information and increases accessibility. For a project like AURIC in which a great deal of research is involved, touching on different areas such as the Classics, translation and music, it has been great to explore all the different formats in which the project could be presented. I believe the virtual versions of the show and the digital materials we have created (the book, album and documentary) are a key factor in our artistic growth. The digital platform boosts the project's main objective: to reach new international audiences, offering a new perspective of this legacy, through a unique experience transcending space and time".
Paula Rodriguez
---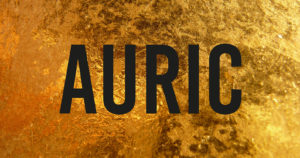 More information on AURIC (Songs from a Golden Age) web
Purchase Album, Book and Merchandising at AURIC STORE
AURIC (Songs from a Golden Age) VIRTUAL PERFORMANCE
Created, Produced, and Performed by Paula Rodriguez Music Composed and Performed by Arthur Astier Filmed by Tom Pollard
Translation and Adaptation by Paula Rodriguez Translation Support by Ben Naylor
Graphic Design by Maya Goldstein
International Producer: Lorenzo Pappagallo Xperteatro