The María José Jove Foundation has announced its inaugural Art Therapy Applications Research and Essay Award, an initiative which aims to contribute to the study, awareness, and use of art as a therapeutic tool while also hoping to encourage an interdisciplinary approach to current thinking on the matter.
The collection's director, Susana González, is the one who set this huge challenge, entering the fray to tackle this complex subject – one which concerns many sensitive issues, not only in the fields of therapy and art, but also human emotion itself.
The María José Jove Foundation, based in A Coruña, has set up this initiative after 15 years' experience of functional diversity through art, working with children and groups at risk of social exclusion, and representing the inclusive side of art, one of the fundamental ideas upon which their huge annual program is built.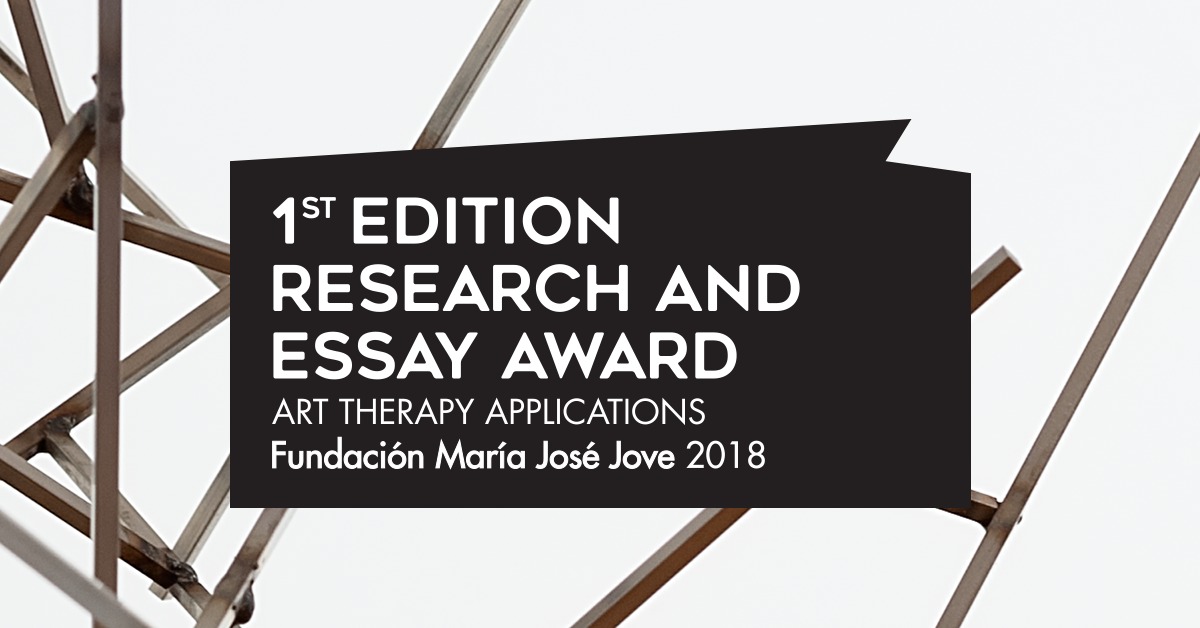 Furthermore, their Art Collection is one of the most important on the national scene. It's not hard to see why, when they house works by renowned artists such as Bourgeois, Mallo, Barceló, Baselitz, Miró, Chillida, Dalí, Picasso and Kandinsky, not to mention contemporary artists such as the latest Spanish award-winning Ángela de la Cruz, Cristina Iglesias, Rafael Canogar, and Juan Muñoz, as well as young artists like Nuria Güell, Cristina Garrido, Mateo Maté, Félix Fernández, and Levi Orta. The list goes on and on, reaching a total of almost 500 artists.
The Art Therapy Applications Research and Essay Award initiative is a statement of intent. An appeal to those professionals of the various fields involved to turn their attention to this subject which doesn't come under the umbrella of any one discipline. It also provides the perfect opportunity to cover the subject with the responsibility and respect that each of these fields deserves, along with their intersections and crossovers.
The judging panel is made up of the President of the Foundation, Felipa Jove; the FMJJ Collection director, project manager and curator of exhibits Susana González; the speaker, writer, researcher and project manager Jorge Blasco; the current director of the MUSAC, writer, art critic and exhibition curator Manuel Olveira; the psychiatrist and essayist Guillermo Rendueles and the psychoanalyst and psychoanalytic theory expert and artistic languages Montserrat Rodríguez. This group will draw on their multiple fields of expertise – art, philosophy, sociology, psychology, education, psychotherapy, anthropology etc., to select the winning research piece.
The award is an opportunity to investigate the possible applications of art, going so far as imagining how an art collection can be a form of emotional therapy in the broadest sense of the word. It's not the first collection intended to be experienced from the visitor's specific personal and emotional experiences. In 2005, the TATE Britain put on Create Your Own Collection, where visitors were able to choose the pieces they most identified with, those which most closely represented their mood and enthusiasm. This was a brave way of democratizing how we all engage with art. An expansive experience where a work's meaning existed outside of itself, appealing to the viewer's emotions directly.
But if we delve a little deeper into the therapeutic effects of art, we can find many testimonials from artists who have channeled their experiences into their creations. The photographer Hannah Laycock makes a moving statement about the way she creates art while battling multiple sclerosis: "My breathing is no longer automatic. I have to think about each breath, and every so often I am forced to gasp… There was nothing I could do to escape its overwhelming presence, but to turn to my camera… It was a passage to forget, to gain clarity, resilience; to break free from the numbness of living with Multiple Sclerosis."
"One is always nearer by not being still".
In other cases, it's the therapeutic side of things looking for an interaction with the artistic one. The artist Josep María Martín's Prototype For An Emotion Management at the Hospital was a project promoted by the Espai d'art contemporani de Castelló and the city's Provincial Hospital, and it was presented in ARCO 2008. In the project, Joseph proposes a designated space within the hospital, dedicated to dealing with emotions, through his actions and interactions with the hospital community (doctors, nurses, patients, patients' relatives, etc.).
What's even more encouraging is that when this meeting of art and therapy is possible, it leads to more equal and inclusive societies, building spaces like Creative Growth Art Center in California, directed by Tom di Maria since 1975. This place was created to give disabled people a chance to create art, with all the freedom that doing so requires.
Di Maria took part in the 'Experts in the Hot Seat series', which commemorated 15 years of the María José Jove Foundation in 2018, raising questions like:
Can a disabled artist create something that challenges us intellectually?".
And as we considered our response, we are shown creations from Dan Miller and Judith Scott, two of the centre's artists who had participated in the Venice Biennale. His centre consists of more than 160 artists all living together and learning shared by another 28 non-disabled artists.
Other projects, however, spoke to us about art that helps to channel collective shock. This was the case with Prestige. In the initiative "Black is the colour, or why do children draw?," researchers Marián López Fdz. Cao and Gabriela Augustowsky set out to study, through creation and perception, changes in personal and social identity, analyzing the way that environment shapes and transforms young people's identities.
"Through drawing, the invisible becomes visible", as the artist Jaime Vallaure said to the children who participated in a drawing workshop organized by Debajo del Sombrero, an association of disabled artists. Art, in its many modes of expression, isn't caught up in its own definition. Art, and especially the art of the future, keeps on re-creating creation. And it's from this need to create that a call to action erupts; a call to keep on discovering different ways to make art, ways that until now have yet to be explored – to eventually be able to contribute to a wellbeing and an integral development of people. This is the foundation upon which rests the entire raison d'être of the María José Jove Foundation.
---
Full info for this open call (Until 19th November 2018): https://www.fundacionmariajosejove.org/proyecto/i-premio-de-investigacion-y-ensayo-aplicaciones-terapeuticas-el-arte/