It all started with a DNA test.
A sample of saliva that would compel Puerto Rican rapper René Pérez Joglar (a.k.a Residente) to embark on an immense journey of self-discovery. A genetic revelation that would force him to walk away from all the fame and fortune of his internationally-acclaimed hip-hop outfit Calle 13, in order to reconnect with his ancestral roots…
Joglar's solo mission is immense: to travel the world over in search of those diverse sounds and stories that flow through his veins. To fuse cultures, voices, melodies and rhythms into his self-titled hybrid album 'Residente', and to document it through this cinematic debut of the same name.
Through his travels, Joglar offers us an authentic type of music. Music for the sake of music. Music for the sake of humanity.
And the result does not disappoint. 'Residente' is an energetic tour-de-force that takes the viewer on an enthralling trip through the sites of Joglar's biological heritage. We are taken from the frozen mountains of Siberia to the war-torn Caucasus, from China to West Africa… finishing off in Joglar's native Puerto Rico. Whilst the journey is at once autobiographical, historical and political, it is above all deeply personal. It seeks to emotionally connect with the root of all shared human experience and to communicate this through humanity's universal language; music.
Through a combination of eclectic samples and stunning cinematography, 'Residente' serves up a series of powerful snapshots, which reflect the lives of some of the planet's greatest yet least-known musicians. Indeed, through Joglar's project, many unsung heroes are finally given a voice on the global stage, as the viewer is treated to a rich fusion of musical traditions which vary from the Tuvan throat singers in Kyzyl to Chinese opera performers in Beijing and the melancholic guitar chords of a Tuareg refugee in Burkina Faso.
Whilst each of the film's chapters offer us a condensed lesson in the brutal realities of conflict, poverty, exploitation and socioenvironmental injustice, the most powerful moment of the film occurs in the Caucasus, where Joglar deals the subject of war. He does so by recording the mourning wails of widows from Chechnya, Azerbaijan and Georgia, later harmonising them in the studio as a powerful statement of the unspoken solidarity that is brought about through shared suffering. Against a harrowing backdrop of death, devastation and crying children, this chapter expresses the anguish of three voices from three countries, bound together by battle and bloodshed. "Our cells fight to form each of the organs in our bodies," concludes the solemn Joglar voiceover, "we are all organisms made out of war". Just like music, war too has become a universal language.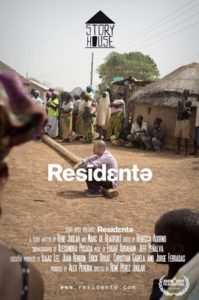 However, over the course of 90 minutes, Residente successfully balances these hard-hitting elements with lighter moments of humour (such as Joglar's frustrated attempts to overcome language barriers) and heavy doses of unrestrained wanderlust. There is no doubt that Joglar relished these adventures and his traveller's spirit is shared with the viewer throughout.
The only downside of Joglar's hunger to cover ground is that it often upsets the rhythm of the film. At times, 'Residente' feels rather rushed, or better said, constrained by the 90-minute time framework. Whilst it certainly adds a sense of urgency to the quest, some moments are left feeling somewhat undeveloped… the story not quite told. This is particularly the case with Joglar's travels through West Africa.The ambition of the project at times causes the film to buckle.
However, these flaws are ironed out in the film's final chapter; a deeply personal exploration of Puerto Rican history and fervent cry for the independence of his homeland. Through an expansive selection of footage and testimonies, Joglar tracks the enduring spirit of Puerto Rico's Nationalist movement and even interviews one of the key men behind a movement that eventually led to an assassination attempt on US president Truman. Joglar's choice of metaphor to illustrate his nation's struggle will no doubt upset animal rights activists, as gruesome cockfighting footage is used to distinguish between "domestic cocks" (pro-statehood Puerto Ricans) and "fighter cocks" (pro-independence Puerto Ricans). That said, controversy is no stranger to the former Calle 13 frontman.
Polemics aside, Joglar's commitment to social justice continues to grow and expand. With the release of 'Residente', he edges ever closer to touching those nerves that truly connect us as humans. Through his travels, Joglar offers us an authentic type of music. Music for the sake of music. Music for the sake of humanity.
---
RESIDENTE (European Premiere)
Dir. Rene Perez, 2017, US, 96mins
Screening at Doc'n Roll Film Festival
17 November 2017 at 18:30 LDN – Picturehouse Central
Full info: http://www.docnrollfestival.com/films/residente/